In Between Time The piece is centered around the concept of relationships with people and space. The dance explores how our relationships with our friends, families, and space define our existence. The dance also explores how these relationships influence the way we experience the world. In the piece the dancers go through both the physical and emotional process of how space is experienced while interacting and connecting with each other.
Commissioned by the Afrovibes Foundation – Afrovibes Festival 2021. The Netherlands, Tanzania 2021, Choreography Samwel Japhet, dancers from Codarts & Amsterdam University of the Arts (AHK). Performers: Jay Lattig & Freerk Lenselink (AHK), Danisha van der Weck (Codarts). Music by: Vaihtovirta, Machinefabriek — Instuif and Timba Harris — Flora Fauna i & ii.
ONESHA THAMANI – DANSI PAMOJA NA JAMII
Onesha Thamani – Dansi Pamoja na Jamii, is a collaborative performance between Nantea Dance Company and Girls Power Dance Group under the artistic direction of Samwel Japhet and produced by Nantea Dance Company. 
The performance promotes the idea of men and women living together as equals and offers critiques about the present circumstances in the city of Dar es Salaam and Tanzania. 'ONYESHA THAMANI', which means 'SHOWING VALUE", the performance gives voice and offers new perspectives towards gender equality.
This project is supported as part of the "Feel free Grant" supported by the Embassy Switzerland in Tanzania and implemented by Nafasi Arts Space. 
Performers: Shaa Mwanandumi, Salumu Kabassa, Tadhi Alawi, Samwel Japhet, Asha Mussa, Irene Themostocles, Halima Masoud and Mwamgeni mohammed. 
Video by:Jimmy Mathias
Original music composer: Shabani Mugado
Duration: 15 minutes
Production: Nantea Dance Company
IKIWA KUNA WAKATI WOWOTE – IF THERE WAS EVER A TIME
IKIWA KUNA WAKATI WOWOTE – IF THERE WAS EVER A TIME, commissioned by the MuDa Africa Dance School in Tanzania 2021. Jan – April 2021 three months intensive training and choreographing.
Performers: MuDa Africa's 2nd year students.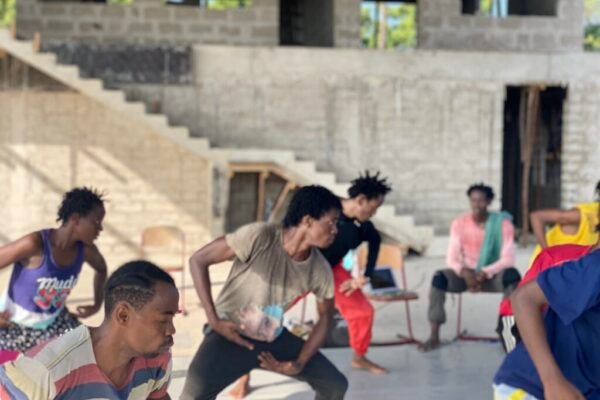 VURUGU – SIDANCE EXCHANGE 2019
'VURUGU', is a dance collaboration performance choreographed and performed by; Aime Irasema Sánchez, Mexico, Ngoc Anh Pham, Vietnam, Samuel King Kwizera, Rwanda, Jorge Abraham Guillen Ortiz, Mexico and Samwel Japhet, Tanzania as part of the Asia & Africa & Latin America Dance Exchange 2019 in South Korea, hosted by Seoul Section of the International Dance Council CID-UNESCO, organized as apart of Cultural Partnership Initiative 2019.  
Co-produced by the Seoul International Dance Festival and CPI (Cultural Partnership Initiative).